Ebola Survivor Anthony Paye (green shirt) with his surviving family
"My story started with son in Law, who was the owner of the medicine store in Freeman Reserved. He treated my neighbor who was very ill and later declared as Ebola Virus positive. After the death of my neighbor, my son in-Law began very ill and I started to take care of him in the house without protective gear. He was sick for two weeks and later died en-route to C.H. Rennie Hospital. One week later, my daughter, mother in Law, and father in –Law got ill and they were taken to JFK Hospital, where three of them died. I was also taken to Island Hospital on the 30th of September 2014 and was tested Ebola positive. I was discharged on October 14; 2014. While in the Hospital, my entire house was looted by thieves. They took away the doors and windows from my newly constructed house including our mattresses and clothes. I left my 9 year olds daughter in the hospital and she was discharged on November 3, 2014. She was discharged and turned over to the Ministry of Health. The Ministry referred her to Harbel children care center where she spend months before tracing her family. She was reunified in early February 2015. She has not received her certificate yet. My family and I are presently living in a rented house."
Ebola Survivor Mary Kollie
"I am a permanent citizen of Freeman Reserved, with 4 children. I am living in a rented house. The house owner got sick and died on September 18, 2014 in the house where we lived. The entire members of the house were quarantined at the school building for 21 days. While we were in the school, my daughter Beatrice Beayee, 12 years got sick and was transferred to ELWA ETU and died one week later. My other two children and I got sick and taken to the same ETU. We were admitted for one month and discharged on October 2014. Since my two children and I came back home, my husband abandoned us and I do not know his whereabouts. He was afraid of us and has never come back to see us"
Ebola Survivor who declined to give her name
Ebola Survivor Gorma Dolo
"The Ebola crisis stared at my house (in this community) in September 2014". My family and I did not know that Ebola was in Liberia until it wipes away four members of my family. It all started with my mother, when she got very ill and I was taking care of her (bathing and feeding her without protection) she was sick for two weeks and died later in early October 2014. After she died, we bathed the body, dressed her and buried. Three days later, my father began very ill and also died one week after, and he was buried by the community members. Three days later after my father died, I started to feel weak, with fever, headache, running stomach and vomiting. The community nurse was called to treat me and my two months old baby. I was not improving at all after three days treatment. My eyes began very red and the baby also had fever. My husband decided to call the (4455) ambulance from Monrovia to take me and my baby to the ETU. On arrival my child died and I was admitted and tested positive. My entire family excluding my husband and little daughter Hanna (4 year olds) got sick. Four of my family members were also admitted at ELWA ETU and tested positive. (Four people died in my house). At the time my entire family was sick, the community members began afraid of us.
Ebola effected family in Freeman Reserve
Ebola effected family in Freeman Reserved, Liberia. 4 of their family members died of Ebola in 2014.
Ebola Survivor Sarah Dolo
"I was living in Monrovia when my husband got sick in Freeman Reserved and joined me in Monrovia. Looking at his condition, I took him back to Freeman Reserved with the fear that when he died, he will be burned. I later sent for his two brothers from German Camp, Margibi County. My husband died on September 18, 2014. After his death, the family was quarantined for 21 days in the school building in Freeman Reserved. The two brothers from Margibi County got sick and were transferred to ELWA and Island clinic. The both brothers died at the ETUs. We did not see their bodies. My husband left me with eight children the youngest is 3 years and oldest 21"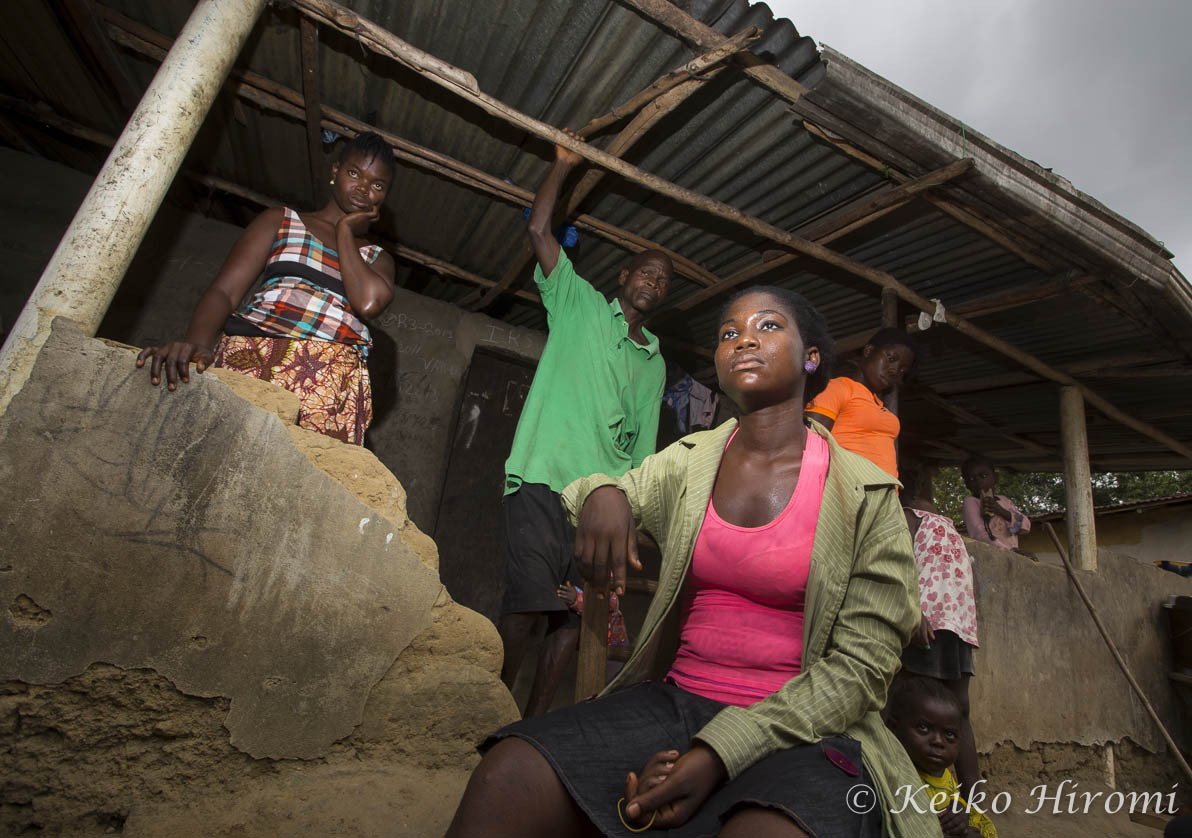 Ebola Survivor Nancy Paye with her surviving family
"my husband Philip Tokpa age 23, the owner of the medicine store in Freeman Reserved treated suspected Ebola case; he got sick few weeks later with severe headache, body pain and weakness. I did not know that he was an Ebola case, and then I started to care for him in the house. Then his condition became serious and he died on September 19, 2014 in our bed room. The burial team came for his body the same day. Then my trouble began with body pain, headache and weakness. I wasted no time but got onto a commercial vehicle and went to Red Light and booked another vehicle to ELWA ETU. I was in the ETU when all my belongings including mattresses were burned. Our medicine store is closed up to present. The drugs were sprayed and all got damaged. I do not have place to sleep with my two children. I have two children (boy 5 years and girl 2 years). My children are not in school and things are very difficult for me. "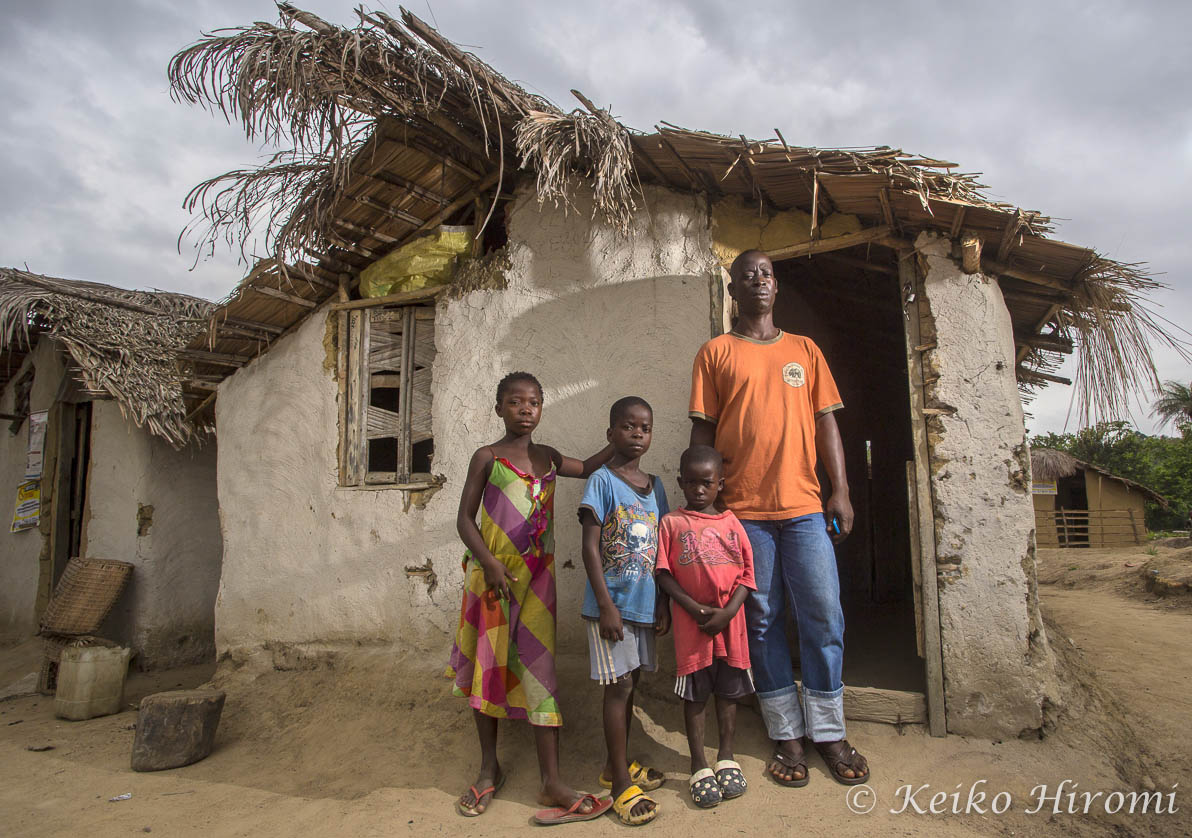 Ebola Survivor Chris Mahyee with his children
Chris Mahyee
"My wife Ekai Mahyee age 31 got very sick from weakness, headache, running stomach and generalized body pain on September 18, 2014 for one week in this house" I was taking care of her. She was later taken to ELWA ETU. Three days later I was also feeling very sick from fever, running stomach, weakness with three of our children. We were all living in this one room and sleeping on the same mattress. The three children and I joined Ekai at the ELWA ETU where we were admitted and tested positive. Ekai died on October 29, 2014, leaving me with all these children. The three children and I were discharged in November 2014. My only means of income is gardening. When my children and I were in the ETU, my sister came for the other three children and took them to Kakata where they are living presently. All our clothes and mattress were burned and the entire house was sprayed by the team from Monrovia. My wife and I were greatly involved in gardening and we were living happily together. Today, I am alone and have to take care of my little ones."